Public and After Dinner Speaker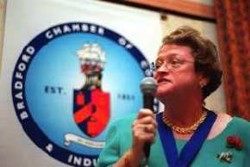 For over 20 years Judith has conducted seminars and workshops on direct marketing in over 20 countries. From the strategic to the creative, from the thoughtful to the hilarious, she has a presentation for your conference.
For the last 10 years, Judith has also been an accomplished after dinner speaker, recounting her early years as a woman in a man's world and some of the howlers from the worlds of advertising and direct mail.
Testimonials
"She's dynamic; she's creative; she's strategic; she's entertaining; she's a practitioner; she's a leader; she's a DM fanatic...she's an original - there's simply nobody like her"


Keith Norris, Chief Executive, New Zealand Direct Marketing Association
"Judith is a dedicated natural teacher...her style is fast, slick and humourous which ensures that the audience is swept up along with the plot and leaves with every emotion tingling and wanting more..."


Malcolm Whitmarsh, Exhibition Director, Reed Companies, UK
"Judith is a knowledgable, experienced and down-to-earth direct marketer...she's also an exceptionally entertaining and energising speaker, who makes the audience race to keep pace with her wit as well as her wisdom"


Linda Loose, Linda Loose Marketing and Communications Pty Limited, Australia
"Your executive presentation struck just the right note, combining your wit and humour and your depth of knowledge and direct marketing"


John Gustavson, President & CFO, Canadian Marketing Association
"The ability to captivate the audience especially at the end of a long and exciting Conference day, is a special gift, which must be protected and appreciated"


Péter Hiratal, Chairman HDMA, Budapest
"Your speech was much enjoyed and was carried out extremely professionally"


Dr Ian Kelly, Chief Executive, Hull & Humber Chamber of Commerce
"I would like to take this opportunity to thank you for your witty and enlightening talk that you gave to ourselves and our guests, which went down very well with all concerned"


Gary W. Shankland, Treasurer, Leeds Estate Agents Surveyors & Valuers Association
"I recently employed Judith Donovan as an after dinner speaker at our Exhibition Gala Dinner. The audience was made up of over 130 people in print, a friendly yet very discerning bunch. Judith had them in fits of laughter throughout her set and I have received many congratulatory messages on such a fine choice of speaker. I would thoroughly recommend Judith for any future speaking opportunities."


Andrew Pearce, IPIA